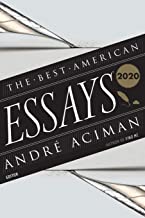 The Best American Essays: 2020, ed. Andre Aciman 2020
This is the 34th edition of the Best American Essays in which a guest editor chooses from among the hundreds of excellent essays published in magazines, journals, and on line sites during the year for the annual volume.  As I write this review, I can look to my right where all 34 volumes fill two shelves of a bookcase, their bindings a rainbow of color, their guest editors a veritable 'hall of fame' of outstanding writers.
This volume is one of the best.  Aciman, a Harvard PhD who was born and raised in Egypt by parents of Sephardic Jewish lineage, is an award-winning novelist and essayist who teaches at CUNY.  His introduction to this volume is a superb addition to the burgeoning literature about essays, a literary form that goes back to Montaigne in the 16th C and has become an important form for many of today's best writers and commentators.
The 24 essays comprising this volume share Aciman's theme that the 'main purpose (of an essay) is to speculate, to explore, to propose, to delay, to reconsider, and always, always to find a pretext to think some more.'  These authors from the well known Rachel Cusk, Barbara Ehrenreich, Leslie Jamison, Jamaica Kincaid, Peter Schjeldahl, and A.O. Scott to many whose names were new to me, explore topics as varied as the bird-watching expertise of the murderer, Nathan Leopold, to the meaning of pre-historic cave paintings, from the possibility that Shakespeare's plays were written by a woman to the colonial mentality of the Robinson Crusoe narrative.
If I were to choose a favorite, I'd go with Leslie Jamison's essay entitled "A Street Full of Splendid Strangers" which describes her obsession with a photography exhibit of the work of Gary Winogrand at the Brooklyn Museum in 2019.  Having reviewed Geoff Dyer's book about Winogrand's work, I was immediately drawn to this essay, and Jamison uses the exhibit as a jumping off point for working out her confusion as a new mother going through a painful divorce.  She quotes Whitman, James Baldwin, my favorite Scottish minister ("every person is waging a great battle'), and Dyer to explore the role of art in helping us understand the world.
All of these essays are worth reading for the observations, thoughts, analyses, and beauty of fine writing.  An interesting factoid is that Virginia Woolf's line about 'brief moments of being' is quoted by two authors, a fitting tribute to a brilliant observation that our lives are filled with the mundane and boring except for those 'brief moments of being' when we are blessed with insight into our human condition.  I have one of those moments most days when I write my "I Got Up" postcard.  You can have one or more if you read this book.