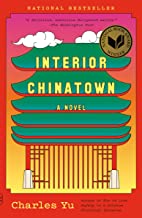 Interior Chinatown, Charles Yu 2020
I requested this book from the Mary L. Blood Memorial Library, here in tiny West Windsor, VT because it had won the National Book Award in Fiction last year, but upon opening it,  I was dismayed to find that it was written in the form  of a television screenplay.  The narrator, Willis Wu, takes the reader through his aspirations to be Kung Fu Guy, playing Generic Asian Male Three and working his way up to become Dead Asian Guy in the TV show Black and White, featuring a suave, hunky Black detective and his attractive, seductive white female sidekick.  Wu uses familiar stereotypes to force the reader to confront our implicit biases, familiar these days in regard to African-Americans, but generally ignored in reference to Asian-Americans.  Along the way, we meet Wu's parents both of whom had had 'successful' acting careers as Kung Fu Guy and Asian restaurant greeter.  Every chapter is labelled Int (interior) or Ext (exterior) in reference to the setting, mostly in the Golden Palace Chinese restaurant.
The book provides a unique view of the plight of the Asian immigrant in America and along the way we learn about the various laws that have excluded or limited Chinese immigration.  Wu delves beneath the surface elements of this story and gives the reader a far more nuanced and interesting view of the immigrant and the world they must navigate.
Another story of 'belonging' or rather 'not belonging' but from a less heard segment of the American scene.