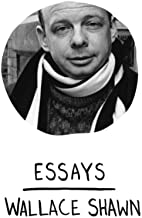 Essays Wallace Shawn 2009
Wallace Shawn, perhaps best known for his movie, Dinner with Andre, has collected 16 of his essays, most of which initially appeared in The Nation.  Topics range from the Iraq War to a Paris Review interview in 1998 with the poet, Mark Strand.
Shawn, the son of The New Yorker editor William Shawn, is  a creative playwright, movie maker, and writer of poetry and essays who is clearly discomfited by the privilege granted him by his birth and social standing.  He channels that discomfort into some impassioned writing about social justice in the U.S., Israel, and the world, but he is at his best in writing about writing.
An uneven collection, but worth perusing if for no other reason than the wonderful musings about poetry, its source and importance, by Strand.