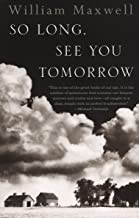 So Long, See You Tomorrow, William Maxwell 1980
This is another one of those "COVID-reads', i.e. a book that has been sitting around the house for years and is now suddenly a 'must read' because of the inaccessibility of the bookstores, libraries, etc.  I found this volume tucked away on a shelf in my wife's office in Cambridge.
Maxwell is an interesting author.  Born in the small, rural town of Lincoln, Illinois (the site of this novel), he was educated at the University of Illinois and Harvard and then had dual careers as the fiction editor of The New Yorker for more than 40 years and as a novelist and short story writer.  In the former role he edited many famous writers among them Eudora Welty, Shirley Hazzard, John O'Hara, Vladimir Nabokov, and John Cheever.  He also won plaudits for his fiction which has been collected and published in the Library of America series.
This novel is simply written but complex in its structure.  The book is narrated by an elderly man who had lived in Lincoln and who looks back on the shocking story of best friends and neighboring tenant farmers, Clarence Smith and Lloyd Wilson.  The book begins with Wilson being shot, and the narrator then looks back over the circumstances that led Smith to shoot his best friend, Wilson.  Along the way we learn many of the details of the narrator's life as well, many of which are autobiographical.  We also learn how the narrator crossed paths with Smith's son, Cletus, both in Lincoln and then later in Chicago.  The prose is sparse but conveys deep feelings and a tragic tale.  It is primarily a story of loss in childhood and childhood lost—the loss of parents, home, friends, dog—-and the impact on the young mind and spirit.
This slim volume, first serialized in The New Yorker in 1979, won the 1982 National Book Award and was short-listed for the Pulitzer.  It's worth reading and finding yourself immersed in a very small world that surprisingly contains all the human emotion, struggle, and heartbreak of the wider world.