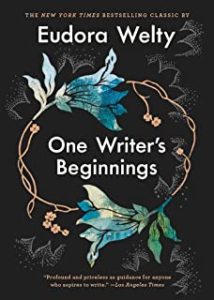 One Writer's Beginnings Eudora Welty 1983
Welty was 75 years old and the winner of a National Book Award and a Pulitzer Prize and the first living American to have their work gathered and published by the Library of America when she was invited to Harvard to give the first Massey Lectures on American Studies in 1983.  For her topic, she chose to explore her childhood in Jackson, Mississippi where she grew up, the oldest of three children born to an Ohioan father and a West Virginian mother.
I almost gave up on this book early one because it was BORING, but sticking with it paid great dividends as I was gently taken by the hand by this deeply feeling observer of the human condition and walked through her development as a writer.  Crediting early reading, some of her first elementary school teachers, learning Latin and reading the King James Bible, having loving parents and grandparents, living in a small town as well as traveling and living in NYC, her experience as a photographer—these all contributed to Welty's development as a storyteller.  Long passages of description alternate with observations about writing—listening, seeing, and considering one's fellow humans with compassion, understanding, and tolerance.  As she writes near the book's end "Greater than scene, I came to see, is situation.  Greater than situation is implication.  Greater than all of these is a single, entire human being, who will never be confined in any frame."
This is a fine book for anyone who aspires to write fiction, especially Welty's primary work, the short story.