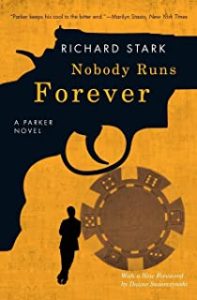 Nobody Runs Forever by Richard Stark (Donald Westlake) 2004
The mood for this, the 22nd of the 24 Parker books, is set on the second page when Parker strangles a guy in a poker game because he noticed that he was wearing a wire.  No accusation, no opportunity to explain, no nothing except Parker removing his tie, stepping behind the card player, and killing him.  Welcome to the world of Parker where there's no first name and nothing but cold-blooded crime.
This particular caper takes Parker to western Massachusetts not far from the Vermont border where an associate has brought him into an armored car robbery.  The robbery is to take place when the assets of one bank are being transferred to another along dark, rural roads.  Parker and two associates equipped with anti-tank guns and automatic weapons, commandeer the armored car without killing any of the guards but are then trapped in a dragnet with dogs, helicopters, and lots of roadblocks.  We last see Parker climbing a hill with dogs at his heels.  (spoiler alert: the next book 'Ask the Parrot' begins with his escape from the cops!).
As in all the Richard Stark (aka Donald Westlake) books, Parker is laconic, cold-blooded, and ruthless, but somehow or other you find yourself rooting for him.  A fine addition to Stark's collection written four years before Westlake died, a much honored mystery writer.