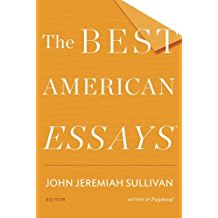 Best American Essays 2014, ed. John Jeremiah Sullivan, 2014
The latest in this series which began in 1986 features thehip and iconoclastic author of Pulphead whose introduction focuses on Montaigne, King James (of Bible fame), and the word essay which means both 'to try' and 'the trial'.  Sullivan goes on to choose an array of essays which are modern, explicit (lots of words one would never have found in TNY a few years ago!), and often tales of personal pain and failure (e.g. two essays tell stories of sexual abuse as young boys and one is about the sudden death of a spouse).  Not one of my favorite collections:
Timothy Aubrey:  A Matter of Life and Death (marriage as 'someone to blame'); Wendy Brenner: Strange Beads (appreciation of life through Ebay beads, both infinite); John Culver: The Final Day in Rome (a wife dies suddenly of an aneurysm on vacation); Kristen Dombek: Letter from Williamsburg (a Brooklyn girl into ménage a trios and suffering from depression and bad relationships); Dave Eggars: The Man at the River (an American in Sudan); Emily Fox Gordon: At Sixty-Five (very spot on description of aging; worth re-reading); Mary Gordon: On Enmity (a reflection on the word 'enemy'); Vivian Gornick: A Letter from Greenwich Village (vividly written description of NYC, friends, and aging; best piece); Lawrence Jackson: Slick Heads (written in African American jargon, I couldn't get past page 2); Leslie Jamison, The Devil's Bait (fascinating tale of Morgellons disease); Ariel Levy: Thanksgiving in Mongolia (an intrepid journalist travels to Mongolia and has a miscarriage); Yiyun Li: Dear Friend From My Life I Write to You in Your Life (a Katherine Mansfield quote in this story about a Chinese woman who emigrates to the US and moves from science to writing after a friend commits suicide); Barry Lopez: Sliver of Sky (heartbreaking story of sexual abuse as a child); Chris Offutt: Someone Else (another tale of pedophilia); Zadie Smith: Joy; Elizabeth Tallent: Little X (vividly written recollections of a childhood as the youngest in the family); Wells Tower: The Old Man at Burning Man (hysterical story of taking his 69 year old father to this festival in the desert); Jerald Walker: How to Make a Slave (a young man and then father struggles with race and racism in the US); Paul West: On Being Introduced (a very funny set of memories about being introduced at book readings); James Wood: Becoming Them; Baron Wormser: Legend: Willem de Kooning (a projection into the artist's thoughts on coming to America).