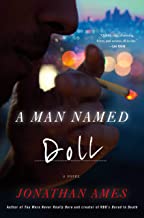 A Man Named Doll by Jonathan Ames 2021
Despite reading every book, every year by Michael Connelly, Tana French, and Lee Child, re-reading the 72 Maigret books by Simenon, finishing up the 24 book series by Donald Westlake featuring a lovable bad guy named Parker, and reading the odd Scandinavian detective story, I'm always on the lookout for my next favorite mystery writer now that Sue Grafton and Robert B. Parker are gone.
So it was with great anticipation that I picked up A Man Named Doll by Jonathan Ames after reading blurbs by Child and others.  Not a good decision.  The book certainly had enough suspense and interesting characters, but from the get go, the writing felt forced (Ames is not Raymond Chandler though he tries his metaphorically best to be) and the plot was not quite credible.
The book ends well, but once again, in a rather unbelievable twist.  Relieved that I won't have to read all of Ames work, this was enough!