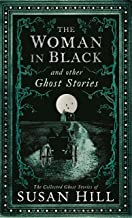 The Woman in Black by Susan Hill  1986
The Sunday New York Times Book Review's By the Book column each week asks a writer what genre they like best and which they avoid.  If asked, I would have said I avoid ghost stories and gothic tales, but here's one that I really enjoyed.
I picked up Susan Hill's book because I had so thoroughly enjoyed her previous books about reading, Howard's End is on the Landing and Jacob's Room is Full of Books.  The former had resulted in my tracking down every book on her Best Books List: Forty Books to take to a Desert Island and reading about 2/3 of them.  I figured if I'd read so many of her recommendations, I should read her own writing.
This is a terrific ghost story which takes the reader to a lonely, deserted, dark and shadowy house, Eel Marsh House across the Nine Lives Causeway in northeast England where Arthur Kipps, a young lawyer has been sent to collect papers to settle the estate of the late Mrs. Drablow.  Surrounded by marsh and the incoming and outgoing tide, the house is eerie, and it doesn't help that Arthur keeps seeing the eponymous woman in black, pale and gaunt at nearly every turn.  Nobody in the village of Crythin Gifford is willing to talk to Arthur about the Eel Marsh House so he is on his own to discover the secret of the haunting.  The answers eventually come and result in a very bad ending for Arthur.
The book is well done, kept me turning the pages, and even had me looking into the odd closet up here in Vermont.  A great book to read on a cold winter's night with the wind blowing down the chimney and the shadows darting on the walls.  But don't do it when you're home alone!