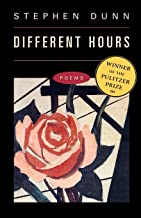 Different Hours: Poems by Stephen Dunn 2000
I opened the New York Times obituaries this week to find that Stephen Dunn had died a few days earlier on his 82nd birthday.  I had discovered Dunn a number of years ago, perhaps when this volume won the Pulitzer Prize and have read him regularly since then.
Dunn writes about the usual subjects for poetry—love, intimacy, aging, death, loss–and does so with a discerning eye and a deep compassion for the human condition.  The critic Emily Nussbaum in writing about this book said that Dunn's poetry is "largely grounded in the present day but it also has an out-of-time quality, like a conversation with your smartest friend during a long distance road trip."  A former basketball star at Hofstra where his team went 23-1, he taught at Stockton College for more than 30 years writing 15 collections of poetry.
I could easily fill several pages with his wonderful phrases and word plays, but here are just a few.  On aging, he wrote in 'Dog Weather':  "They've sent me an AARP card./I'm on their list./I can be discounted now almost anywhere." and "I like the intelligibility of old songs./I prefer yesterday." and in a "Postmortem Guide" where he writes, "I learned to live without hope/as well as I could, almost happily,/in the despoiled and radiant now"
This is a book to be read and re-read; to be thought about and to smile at. We've lost a fine poet.