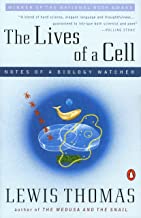 Lives of a Cell: Notes of a Biology Watcher, Lewis Thomas 1974
As a newly graduated medical student beginning his internship at the Massachusetts General Hospital in 1971, I began what is to date, a life-long subscription to the New England Journal of Medicine, widely regarded as the premier medical journal in the world.  As it happened, another physician, much more experienced, wise, and sophisticated than I, began to write a weekly column in that journal in the same year.  Lewis Thomas was the epitome of someone we in academic medicine fondly called The Triple Threat, meaning that he was outstanding as a clinician, a scientist, and a teacher, a species which has almost entirely vanished from the today's world.  Add to that the fact that Thomas was also a master manager (he became the CEO of Memorial Sloan-Kettering in 1973) and his National Book Award winning book of essays, and you have the complete Renaissance man.
This collection of 29 of his NEJM essays is a delight to read. Though written 50 years ago, they continue to shine with pithy observations, wise comments, and brilliant connections.  Thomas comments in several places about the  world's population at less than half of today's and about the $80billion being spent on health care each year are ironic given today's world.  Themes of humility in the face of ignorance, wonder at the human brain and our unique feature of language, and the lessons we can learn from the social insects arise in multiple essays.  If there's one single theme uniting these works it's the interdependence and symbiotic relationships between all living things on this earth.
Perhaps most enjoyable, however, is the sense of sitting across a small table with a fascinating and learned friend who is passing the evening with you through sharing some random thoughts about medicine, science, and the world.  A real treat to revisit this work 50 years after I first read them.