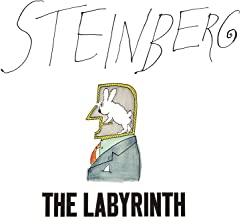 The Labyrinth, Saul Steinberg 2018
You may be aware of Steinberg's work primarily through the New Yorker cover which depicted NYC as 90% of the US with a random town or mountain to the west of the Hudson River.  If that is all you know of him, you should definitely dive into this volume of 251 pages filled with his line drawings, black and white works from between 1954 and 1960 that reel you in revealing depths of meaning the longer you look at the work.  Paired with an introduction by one of today's pre-eminent essayists, Nicholson Baker, and with an afterward written in 1966 by the prominent art critic, Harold Rosenberg, this is a wonderful example of how art can speak volumes using only line, space, form, and texture.
What emerged from this examination for me was a strong sensation of tension in Steinberg's work—tension between men and women, between human and animal, between isolation and couples, and on and on.  It's a tension that doesn't get spelled out in words but in the creative drawings in which people, animals (usually fish, birds, alligators, dogs or cats), statues, and towns and cities are depicted in various relationships to each other.
There are so many favorites among the drawings that it's hard to choose, but among them is the depiction of a baseball batter (#9 for the Yankees was Roger Maris if my memory is still solid), the catcher, and the umpire fused into a single entity. Another is the depiction of a Muslim women in a full burka gazing out at Justice, who is portrayed as a completely blind-folded woman, and this 50 years before 9/11.  His portrayals of words, with HELP falling of a cliff, SICK lying supine in a bed, and TANTRUM jagged in a lightning storm are funny, clever, and spot on.
In his afterword, Rosenberg points out that Steinberg "has worked out an exchange between the verbal and the visual that makes possible all kinds of revelations."  Baker describes him as a "lyricist of the metal nib–a twirler of nonverbal non sequiturs."
This is a wonderful book to return to, linger over, and enjoy, page by page.