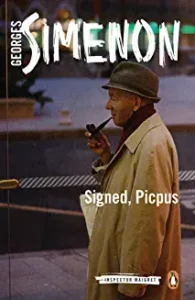 Maigret and the Fortuneteller by Georges Simenon 1944
The 23rd of Simenon's Maigret novels, reissued by Penguin with the title Signed, Picpus, this is one of the more unusual Maigret books.
On the one hand, it has Maigret at his usual manner, frustrating the Commissioner, the examining magistrate, and his inspectors, as he slowly insinuates himself into the lives of a strange and disconnected group of individuals.  There's Joseph Mascouvin who brings the story that a clairvoyant will be murdered in Paris at 5:00PM.  There's the murdered fortuneteller, Mademoiselle Jeanne, also known as Marie, the daughter of Octave La Cloaguen who isn't really Octave, but a tramp who is pretending to be him.  And then there's Monsieur Blaise who fishes every weekend at the country inn but whose fish are caught by the porter there.  Well, you get the idea.  Nobody is who they pretend to be, but Maigret sorts it out.
An unusual element in this book is that in one chapter, Simenon steps outside the narration and addresses the reader directly.
All in all, this was a good one and worth the read.