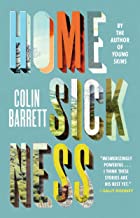 Homesickness: Stories by Colin Barrett 2022
I read this book of short stories because it received 15 rave reviews listed in the Literary Review, an online book review newsletter which arrives via email every week.  I had never heard of Barrett probably due to this being  only his second book, though the first was widely heralded and won several prestigious awards.
I'm very glad I followed the Literary Review because this volume is a jewel.  Barrett writes about his native Ireland, primarily small towns on the edge of poverty, small lives on the rim of bleak, and small dramas in lives that are not particularly going anywhere.  His technique is to drop the reader into the midst of these lives, drawing us into an attachment to the characters, and then ending the stories without any resolution or conclusion to the situations we've become invested in.  Nothing in these stories is particularly exciting or momentous—an unpublished poet who creates on line cartoon pornography sits at his computer; a local star footballer returns to Mayo after washing out in the United development team and works at his father's Nissan dealership; a friend helps a man just discharged from a psych facility, and on and on.  None of the characters are particularly memorable; none of the action is of much moment; none of the conflicts, tension, and plots are resolved, and yet, these are wonderful stories.
The title is a double entendre with homesickness having its usual meaning of longing for one's childhood home and all the comforts and love that it contained.  The other meaning, however, is bleak and refers to the sickness with which individuals emerge bearing from their childhood home and family.  Most of the stories encompass both meanings in the usual confusing and complicated feelings the characters have about their family.  Characters who have gone off to school or work elsewhere in Ireland return to their homes and contend with that complex mix of resentment and anger while retaining their love of home, parents, siblings, and friends.  Barrett's skill is in balancing the two meanings.
Yet the book is ultimately satisfying and worth the read, and it's because Barrett can really write.  His sentences are often things of beauty that stopped my reading and led me to re-read that last sentence.  His descriptions are wonderfully evocative of the reality, especially his descriptions of people's appearances.  In 'The Alps' a story about three brothers' encounter with a stranger in the local pub, they are described as follows:  "The Alps is the local moniker for three brothers: "shortish men with massive arses and brutally capable forearms. They breathed coltishly through their noses and rolled their shoulders with a circumspect flourish whenever women crossed their paths. They billed themselves as tradesmen, though between them had never acquired a qualification in any particular trade." 
In story after story, the final sentence caught me by surprise.  Not because Barrett had pulled some plot-device rabbit out of a hat, but because he hadn't.  The stories often ended abruptly with no resolution, and I was left hanging with my concerns for the characters unfulfilled.
If you enjoy short stories or fine writing, read this book, but don't go looking for a Heminwayesque tidily tied up conclusion to any of them.  Barrett's characters are real, living real lives, and those seldom end neatly, do they?