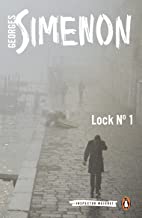 Lock No. 1 by Georges Simenon 1933
Lock No. 1 is the 18th book in Simenon's Inspector Maigret series and finds our intrepid inspector called to Charenton to solve the attempted murder of Emile Ducrau,   a self-made man who owns a major barge company, mines, and other businesses and is Charenton's leading citizen.  Two unusual features of this novel are that Maigret is at the end of his career with his imminent retirement and move from Paris to a country home on the Loire. The other feature is that this is the first in the series in which Maigret is actually solving a crime near enough to Paris to take the trolley to the crime scene.
The story is the usual in which passion and circumstances combine to result in a murder, and in this case three deaths.  Maigret does his usual "I suspect everyone" and hanging around the small town to get a feel for the social dynamics and the environment that both 'caused' and witnessed the crime until he finally sees things clearly and nabs the killer.
Not his best effort, but improving steadily with each book.