Rolling Stone Wall and Rolling Wood Pile
Inspired by Richard Long, Hamish Fulton, and Andy Goldsworthy, I have created several works of Land Art on our Vermont property.  In the pasture across the road from our house are two six foot diameter iron spools originally used to store cable for a local communications company.  I've filled one spool with stone from a local quarry and one with wood cut and split from local trees, and call them Rolling Stone Wall and Rolling Wood Pile.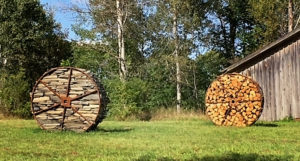 ​The second work is a cairn measuring 6x2x3 feet and weighing approximately 6.5 tons of stone gathered from the ground surrounding the cairn site.  The cairn sits near the top of Rowe Hill and was built over a period of ten years, one stone at a time laid during my Rowe Hill walks (see below).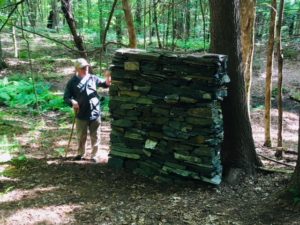 The Ely Farm Stone Circle
In 1796, the Ely brothers, Joel, Abishia, and Fred, began to clear the 12 acres that would eventually become our Vermont get-away.  The Ely Farm was on this site from 1796-1898.  In clearing the fields for pasture, large rocks were used to build stone walls while smaller rocks were tossed onto a rubble pile.  One such pile was in our lawn and a nuisance for mowing, so, taking an inspiration from Andy Goldsworthy and Richard Long, two of  my favorite land artists, I created a stone circle.  As more stones are unearthed by mowing, weeding, winter heaves, and erosion from weather and wind, I randomly fling the stones onto the circle.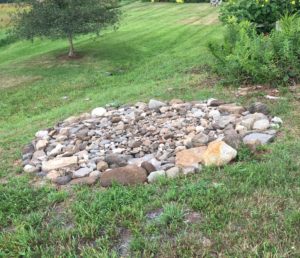 These two wire towers stand in the woods along the brook that runs through our property.   I built the one on the left several years ago filling it with pine needles and leaves and topping it off every few months as the organic material decomposed and settled.  I built the one on the right this month, filling a wire tower with stones from the adjacent brook.  Based on my estimate of 50 lbs of stone/carrier and 15 loads of stone, I'm guessing that there are 750 pounds of rock in the tower, unlikely to need topping off, but at risk of settling or toppling as the ground freezes and thaws over the years.  Whatever happens to them, they stand as welcoming signs of the presence of man in the deep woods.