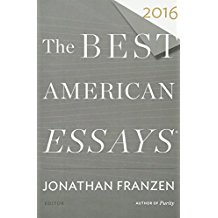 Best American Essays, 2016, editor Jonathan Franzen, 2016
Franzen states in the introduction that the main criterion in choosing this collection was whether the author had taken a personal risk, and some of these essays truly staggered me with their frank and naked view of the author.  This was a larger than usual volume, but my guess is that Franzen would have enjoyed including another dozen or so.  No boring essays in this one!
*Bajadas, Francisco Cantu:  An Latino border patrol agent working the desert north of the Mexican border struggles with his feelings.
*Girl, Alexander Chee: A transgendered male in SF during the Castro Halloween parade
*Against Honeymoons: Charles Comey: A newly married man on Kuwai describes his honeymoon sickness in the context of history
*Names, Paul Crenshaw: Nicknames allow the young, raw, frightened recruits in basic to manage their fear as they head to Kuwait
*Ordinary Girls, Jaquira Diaz: Drugs, suicide, incredibly dysfunctional families and a middle schooler in Miami
*My Father and the Wine,  Irina Dumitrescu:  A Rumanian's immigrant experience with food, wine, and family in Canada
*My Heart Lies Between 'The Fleet' and 'All the Ships', Ela Harrison:Translating ancient Greek into English via an Italian-Greek dictionary
*The Bonds of Battle, Sebastian Junger:  PTSD and the benefits of universal national service to heal the citizen/military gap
*Sexual Paranoia, Laura Kipnis: A professor decries the politically correct standards for faculty/student relationships on today's campuses
*Thin Places, Jordan Kisner: An in depth look at OCD and deep brain stimulation by a woman who has long suffered with OCD
*Pyre, Amitava Kumar: An Indian male returns to India for his mother's funeral pyre experiences the shock of different worlds and times
*Of Human Carnage, Richard Lange: An American couple are eye witnesses to a suicide by truck in Costa Rica and are shaken to their core
*Bastards, Lee Martin: A man recalls the distorted boyhood that resulted from his father losing both hands in a farming accident
*Family Tradition, Lisa Nikolidakis: A girl recounts how her violent father murdered his wife and step-daughter and her own childhood
*The Lost Sister: An Elegy, Joyce Carol Oates: At 18, Oates' parents have a new baby who has severe autism changing all their lives
*Right/Left: A Triptych, Marsha Pomerantz:  Milshiks/Flashiks provide the model for this woman caught in the changes of modernity
*Big Night, Jill Sisson Quinn:  Salamanders and the child wish for a teacher who goes through IVF and adoption
*Killing Like They Do in the Movies, Justin Philip Reed:  A lynched uncle and the Craven horror movies frame race in America
*A General Feeling of Disorder, Oliver Sacks:  A masterful summary of the parasympathetic and sympathetic nervous systems and migraine
*In Praise of Contempt, Katherine E. Standefer: Probably the first use of 'fuck' in this essay about consensual, contemptuous sex
*The Eleventh Commandment, George Steiner: Great essay about anti-Semitism's roots over the last 2500 years.  "Thou shall not be bored"
*Namesake, Mason Stokes: A gay man tries to figure out his bachelor Uncle while he sorts out his own bachelorhood
​*Black and Blue and Blond, Thomas Chatterton Williams:  A light skinned Black man confronts race when he has a blue-eyed, blond daughter
Superb writing with themes of family, identity, mental illness, and society's dislocations of race, immigration, and trauma.  Fine job by Franzen