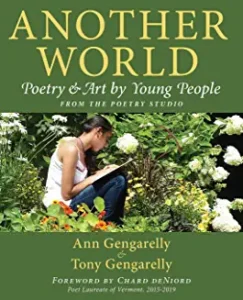 Another World: Poetry & Art by Young People by Ann and Tony Gengarelly 2021
This lovely book will lift your spirits and renew your hopes in the future of our planet.  Sent to me by the editors, I thought National Poetry Month was the perfect time to dive into its 200+ pages of poems and images of artwork and hand-made books by the participants in The Poetry Studio, an after school and summer program for kids from kindergarten to eighth grade that has been offered for more than 25 years in the editors' home in Marlboro, Vermont.
With an introduction written by Chard DeNiord, formerly Vermont's Poet Laureate, the work is presented with a minimum of narrative and that confined to its final pages.  Instead, the poems, art work, and hand made books stand on their own organized into sections entitled Journeys and Transformations, Nature as Teacher and Nature as Metaphor, Nature Characters and Conversations with Nature, Stretching Borders, Animal Magic and Magical Creatures, Mythical Worlds and Mythical Beings, and Who Am I? and Who are We?  In each section, children from age 7 to 16, get their thoughts, feelings, fears, hopes, and dreams down on paper in words and in drawings.  One can't help but be amazed at what can come out of small people when given the setting, the time, and the support to share what's in their thoughts and feelings.
I knew that this book was a success when my six year old grandson wanted me to read from it again and again last summer.  I think he saw himself in those young poets and artists, finding a means of transferring feelings and thoughts onto paper.  This is a perfect gift for that young poet and artist in your life.