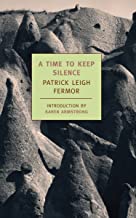 A Time to Keep Silence, Patrick Leigh Fermor 1957
I have previously read two books by Susan Hill, a septugenarian British publisher, writer, and literary critic, and I have loved both of them. We share favorite authors (though she's a bit light on Americans) and she's proven to be a rich source of ideas about 'what to read next'.  Her first book, "Howard's End is on the Landing" concludes with a list of the Final Forty, the books she would take to a desert island if she were to be limited to only 40.  It's a quite idiosyncratic collection since she had to choose only one book by many of her favorites such as Shakespeare, Woolf, James, Greene, Hardy, Dickens, etc.  Two authors did manage to sneak in two volumes—Anthony Trollope and P.G. Woodhouse.  I've been searching used book stores for two years now in an attempt to collect the 40 and have managed to get 33 collected on one shelf in my Cambridge study.  My hope is to find the remaining 7 books (some very rare ones, indeed) and to read through the shelf over the next two years or so.
I chose to begin with this book by Patrick Leigh Fermor, a fascinating Brit who has also written two books about his walks through pre-WWII Europe. This volume is referenced by Hill in a chapter entitled Reading for the Soul which is focused on Michael Mayne, the late Dean of Westminster Abbey, who also has a book on the List.  Fermor's book is described by Hall as a 'book to which I turn often (and) I have never come away empty handed."  Fermor describes his visits to three abbeys in France and the abandoned Christian churches in Cappadocia, hewn from 'stony spires of a moon-like landscape."  His descriptions of the solitude, silence, and beauty of the monastic life in the Benedictine monasteries at St. Wandrille which was established in 649 CE and Solesmes, established in the eleventh century and credited with the revival of the Gregorian chant are finely wrought.  He also visits the Trappist monastery, La Grande Trappe where the Benedictine routine of prayer, worship, and physical labor is even more stringent with the monks rising at 1AM and occupied all day without opportunity for study and contemplation allowed by the Cistercians.
The book is beautifully written and filled with words that required ready access to www.dictionary.com.  While Fermor a world class walker, WWII resistance fighter, and world traveler was never likely to take orders and become a monk, the interludes he spent in these settings provided him with the opportunity to realize the value of the silence and solitude that was impossible to achieve in the city even in the pre-internet simpler days of the 1950's.  If Fermor, who died in 2011 at 96 years of age, and was once described as a cross between Indiana Jones, James Bond, and Graham Greene was alive today, I think he may well have opted to return to St. Wandrille.
This was a great way to begin my voyage through the Final Forty.  Thank you, Susan Hill.