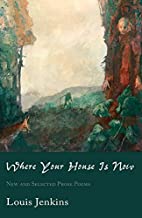 Where Your House is Now: New and Selected Poems, Louis Jenkins 2019
I first read Jenkins' poems in the daily Writer's Almanac published by Garrison Keillor who had obviously taken to his fellow Minnesotan.  I had the opportunity to see Jenkins in 2016 in Cambridge at the American Repertory Theater in a quirky play Nice Fish, in which his poetry was adapted into a drama by the Oscar, Tony, and Emmy award winning actor Mark Rylance.   When I saw a reference to this book in some book review a few months ago, I requested that the Cambridge Public Library purchase a copy and I, therefore, had first dibs on it when it arrived last week.  I began to read it late last night and 90 minutes later, tired but exhilarated, I finished the book at one sitting.  Its 122 pages contain approximately that number of poems since they are nearly all single page, prose poems without stanzas, rhyme, meter, or any of the other characteristics usually associated with poetry. What they do have is a wry, ironic, yet deeply humane view of life touched with both subtle and laugh-out-loud humor.  I loved the book.  As is my custom, I read with pencil and paper jotting down the pages/titles of the poems I most loved, finally giving up after filling one page with more than 15 'favorites'.  Hard to choose one but here's 'Basement':
There's something about our basement that causes/forgetting. I go down for something, say a roll of paper/towels, which we keep in a big box down there, and as/soon as I get to the bottom of the stairs I have forgotten/what I came down there for. It happens to my wife as/well. So recently we have taken to working in tandem like/spelunkers.  One of us stands at the top of the stairs while/the other descends. When the descendant has reached/the bottom stair, the person at the top calls out, "Light/ bulbs, 60 watt." This usually works unless the one in/the basement lingers too long.  I blame this memory loss on all the stuff in the basement.  Too much baggage; 10/shades of blue paint, because we could not get the right color, extra dishes, bicycles, the washer and dryer, a cider/press, a piano, jars of screws, nails, and bolts….It boggles/the mind. My wife blames it on radon.
Funny, ironic, true!  There are dozens of poems like this that will make you laugh, nod your head in acknowledgement, or shake your head in identification.  My joy at this discovery, however, quickly turned sober when I went to Wikipedia to refresh my memory about Jenkins and learned that he had died last month at the age of 77. Perhaps it's fitting, therefore, to finish with his poem, 'The Learning Curve'.
 There are certain concepts that I only vaguely under-/stand but that people talk about all the time. You/frequently hear the term "learning curve," for instance./I suppose that refers to how one learns a new skill or/gains knowledge over a period of time, described as an/ascending arc from zero (know nothing) to ten, the/ zenith (knowing all there is to know about a thing.)  Then/comes the gradual descent, the arc of forgetting, back/to zero.  Then feet firmly planted on the ground in the/batting box of ignorance, the learning curve ball comes/whistling past and slowly you come to understand that/once again you are out.
Sad that another literary 'friend' is gone, but wonderful that he left us this gift before leaving.