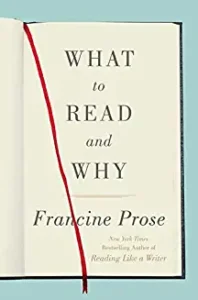 What to Read and Why by Francine Prose 2018
There's nothing better than a book about books written by someone with a deep knowledge of literature and with a keen eye for style and the writerly craft.  Drum roll:  Enter Francine Prose, a prolific writer of fiction and essays, a National Book Award nominee, a former president of the PEN American Center, and winner of the Washington University International Humanities Medal. (not to mention a graduate of Radcliffe in the class after mine!)
This volume collects 33 essays which were either written as introductions to a reissued classic or as essays in periodicals, primarily The American Scholar, Harper's, The New York Review of Books, or the New York Times Book Review.  As Prose writes in the introduction: "the essays gathered in this volume contain reading suggestions and imprecations, records of enthusiasms, pieces that start with particular books and move toward the larger subject of how and what and why we read, why books can give us pleasure and make us think."  Great summary.
The reissued classic intros include 'Frankenstein', 'Great Expectations', 'Middlemarch', 'Little Women', 'Lolita', and Jane Austen's work , but having read about each of these in various sources over the years, I enjoyed these essays less than the ones about contemporary authors which were terrific.  Her exploration and interpretation of the works of Bolano, St. Aubyn, Paul Bowles, Mark Strand, Karl Ove Knausgaard, Charles Baxter, Jennifern Egan, Alice Munro, Rebecca West, Moshin Hamid, and Stanley Elkin expanded my understanding and enjoyment of these authors while essays on several authors whom I had never heard of were also fascinating.  Anybody heard of Patrick Hamilton, Gitta Sereny, Andrea Canobbio, Deborah Levy, and Reiner Stach?  Ah, tempus fugit!  Topping it off were two essays on gifted photographers, Diane Arbus and Helen Leavitt.
This is a delightful journey for anyone who savors reading.  Prose is clearly focused on character rather than plot or scene, and loves books that explore the inner world of characters, that element which is unknowable to others and perhaps even to ourselves.  This deeper understanding of who we are and how we are in the world is the answer to What and Why We Read.  If you love books, this is a fine one for you.