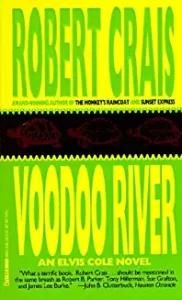 Voodoo River by Robert Crais 1995
Crais, named a Grand Master by the Mystery Writers of American in 2014, has written 19 novels featuring the 'Best Detective in the World' Elvis Cole and his trusty companion, the inscrutable and silent Joe Pike.  'Voodoo River' was the fifth in the series, and unlike most of the others, it failed to garner nominations or awards.  I've read a number of the later books in this series and enjoyed them, but this one felt a little contrived.  The major contribution was the introduction of the Baton Rouge attorney, the beautiful Lucy Chenier.
The story revolves around Jodi Taylor, the star of a major TV hit series, about a classic, Nordic American family. When it becomes clear that Jodi is likely the product of an interracial love affair 36 years earlier, Cole and Chenier are hired to find the facts about her birth and adoption.  That leads to all sorts of complications and piles of dead bodies along the way.
A one day read, this served its purpose of clearing my mind and keeping me from falling asleep pool side on a 90 degree day in Vermont.  If you're looking for distraction, skip this one and read one of the later Cole/Pike novels.