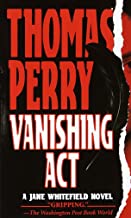 Vanishing Act by Thomas Perry 1995
If you need to disappear and stay disappeared, you would do well to find Kate Whitefield, a full-blooded Seneca Indian living in a Rochester suburb.  Kate's specialty is helping people who are being chased by bad guys or sometimes the police to find new identities and be relocated, sort of a private Witness Protection program.
Kate is minding her business one day when a man appears uninvited in her home and claims to be on the run from the police after being framed for embezzlement at his accounting company.  John Felker is an ex-cop who found Kate through his prior arrest of Harry Kemple, a gambler who Kate helped relocate after Harry was an inadvertent witness to a multiple murder.  Kate saves Felker from the bad guys who are chasing him, sets him up in a small town in Oregon with a new name and documents, and then the fun begins.
Perry is truly talented at clever plot twists and ratcheting up the suspense to a grand finale, and this book does not disappoint.  I think Perry has now joined the ranks of Parker, Connelly, Child and Simenon in 'read everything they ever wrote' club, and since he's written 27 novels with both a Kate Whitefield and a Butcher's Boy series, I think I'll be busy for some time to come.