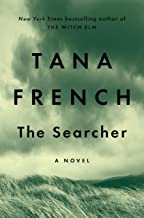 The Searcher, Tana French 2020
The title refers to Cal Hooper, a fiftyish ex-Chicago cop who moves to a small Irish village in an attempt to rebuild a life which had seemed solid and steady before he burnt out in police work, his wife left him, and his daughter moved to Seattle to get away.  His search for peace and quiet is disrupted when a youngster from a poor family in the hills turns up at his door and refuses to take no for an answer to the demand that Cal find an older brother who has disappeared. The search endangers several lives as Cal slowly comes to learn the secrets of the village.
French has done her usual fine job of creating suspense and tying vividly drawn characters into a tight plot.  I missed the Dublin Murder Squad which had been the center of her previous novels, but this was a good read and, it is likely to appear on many of the Ten Best Lists that will inevitably sprout this month.