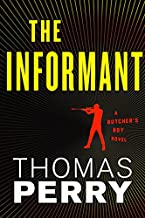 The Informant by Thomas Perry 2011
This is the third of the four Thomas Perry books featuring a paid professional assassin who kills without any remorse but who is otherwise a loving husband and all around good guy.  Michael Schaeffer is the Butcher's Boy, trained by an assassin who adopts the 11 year old when his parents die in an accident.  Eddie Mastrewski, whose day job was really being a butcher, trained our young assassin to kill at an early age and lauched him on a lucrative but dangerous career.
In this book, Schaeffer returns to the US after two decades in England when a hit team tries to kill him late one night at his wife's ancestral home in England. They fail; they die like about two or three dozen bad guys in this story.  Helped by his contact at the DOJ, senior analyst Mrs. Waring, Schaeffer shoots a bunch of 'old men' leaders of the Mafia and a whole battalion of their soldiers before he manages to escape back to England with Waring's help.  No more hints or I'll ruin it for you.
Good page turning escape novel.