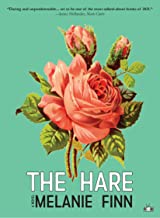 The Hare, Melanie Finn 2021
Melanie Finn is a Vermont author who lives in the remote, rural Northeast Kingdom.  She has written a book set in that place, one that she knows and loves despite its brutality and isolation.
The book (which was highlighted in a recent New York Times Book Review New and Noteworthy section)  is terrific, filled with vibrant, alive characters, but it's also distressing, disturbing, and ultimately unsatisfying as Finn leaves us dangling at the end without a resolution.  Avoiding the need for a spoiler alert, I'll just give you the broad outline.  Rosie Malone is an art student at Parsons, living in NY after a lonely upbringing in Lowell, MA with her affectless and loveless Gran after her parents die in an auto accident.  Rosie is approached one day at MOMA by a handsome, tall and smart man who ultimately takes her to bed and then into his life.  Bad decision, Rosie!
The bulk of the action from Rosie at 18 to Rosie at 54 takes place in the Northeast Kingdom not far from Canada where Rosie and her baby must survive the brutal weather and isolation with no money, no family, and no skills.  They do survive thanks to a wonderfully colorful character, Billy Mix.
Finn is a master at creating vivid and credible characters, and she knows how to keep the tension at near unbearable levels.  Though I found the ending to be unsatisfying, that's my problem not Finn's.  The issues of child sexual abuse and pedophilia, domestic abuse, women's rights, and even transgender are enfolded in the story, but the major theme is POVERTY and the life-limiting conditions that poor people struggle with every day in every activity.
Worth reading but don't look to be uplifted or chuckling.