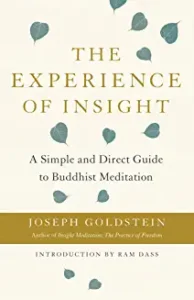 The Experience of Insight: A Simple and Direct Guide to Buddhist Meditation 1976
When the Insight Meditation Center in Cambridge offered a 30 day program with daily dharma teaching and meditation with Joseph Goldstein this winter, I was sorely tempted. Afterall, I had been meditating intermittently for many years and had even gone on a five day silent meditation retreat at their Barre, MA center several years ago. I finally decided, however,  to 'read the book' instead of 'doing the course', and Goldstein's 1976 book proved to be an interesting contrast with his more recent 2013 offering, 'Mindfulness: A Practical Guide to Awakening.'
Goldstein, one of the major gurus of the mindfulness movement has clearly moved some distance away from the Buddhist roots of the practice with its emphasis on impermanence, reincarnation, and karma and towards the practical elements of mindfulness, awareness, and the day-to-day goals of acting with lovingkindness, living with equanimity, feeling and acting with compassion towards others, and trying to experience joy.
I found this book to be neither 'simple' nor 'direct' and much less accessible than his previous book. That book one along with 'basic how to's' by Chodran, Brach, Sandberg and a few others are a much better place to start for beginning meditators.  This volume has all the usual Buddhist number systems: The five hindrances, the Four Noble Truths, the Eight Right Actions, etc.  It's worth reading, but at times it's a slog.  If you are interested in beginning to meditate (and I do heartily recommend it for inner peace and focused awareness in these very fraught times), I'd start with Pema Chodron's 'How to Meditate: A Practical Guide for Making Friends with Your Mind.
Goldstein's  book was of historical interest and does have some excellent insights and suggestions, but it's a bit out of step with modern mindfulness.  I'd go with Chodron and Brach.