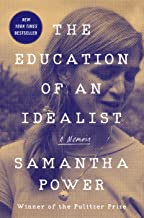 The Education of an Idealist, Samantha Power 2019
Samantha Power has written a compelling and important memoir.  Born in Ireland, she emigrated to the US when she was nine with her Mum, a physician who left her alcoholic husband behind and left Power with a life-long struggle around the loss of her father. Educated at Yale and Harvard Law School, Power combined a sharp mind, a fine education, and a restless energy into a series of important mentorships through summer internships and early jobs, eventually finding her voice and her life's work writing about the genocide of the Bosnian Moslems as a war correspondent during the siege of Sarajevo.  Her experience there as well as her reporting on the mass murders in Rawanda led her to write the 2002 Pulitzer Prize winning book about genocide, 'A Problem from Hell' published when she was only 32.  What followed was a series of wide-ranging experiences with international situations from the Iraq war to Darfur and the most important meal of her life in 2005 when a young Senator from Illinois named Obama invited her to dinner.  Her idealism about how the U.S. government could have an impact on war, genocide, and the suffering of people led to a positive chemistry with Obama who invited her to join his Senate staff and later his campaign.  When he won the presidency, he appointed Power to the NSC and then to become the U.S. Ambassador to the UN.  Along the way she married Cass Sunstein whom she met while campaigning for Obama in Iowa and had two children.
The story of her life and the story of the world's humanitarian crises during the Obama years are masterfully intertwined in this fine memoir.  It's difficult to summarize a 550 page, detailed account of those years—Syria, Darfur, Crimea, Ukraine, Ebola, Boko Haram, Iran, China, Putin, the Paris Accord—but several themes connect the episodes and kept me reading through what sometimes felt like overly detailed narrative.  The rights of individuals—-women, LGBT, lowest castes, political prisoners—-were always Power's priorities, and when faced with a seemingly impossible situation, she kept Obama's slogan of "Better is good" and "Shrink the Change" (from a book entitled Switch: How to Change Things When Change is Hard) in her focus. Chipping away at the injustice in the world, using U.S. power and prestige to improve the lives of individuals in the other 132 countries in the U.N. one small step at a time was her mission.  Sadly, the book ends with the election of Trump and Power's observations about the disaster for her ideals that his election represented.
One week from the election, this book is a powerful reminder of what the U.S. can do in the world if we are led by a President with ideals, brains, strategy, and a realistic set of goals to improve the world.  I'm grateful to Samantha Power for this reminder.