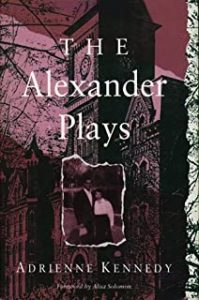 The Alexander Plays by Adrienne Kennedy 1992
The January 18, 2021 issue of The New Yorker had an article my Vinson Cunningham about a 'digital festival' of filmed readings put on by the Round House Theater of "The Work of Adrienne Kennedy: Inspiration and Influence."  Who is Adrienne Kennedy, I asked, and the, embarrassed, I read on to learn that at 89, she is "one of our greatest and least definable living playwrights, restlessly inventive and ruthlessly unshy about the pressures exerted by history upon our lives."  Off to the Cambridge Public Library where I was able to snag a copy of her The Alexander Plays featuring four works entitled She Talks to Beethoven, Ohio State Murders, The Film Club, and Dramatic Circle.  Kennedy who has won multiple honors including a lifetime Obie award, an American Academy of Arts and Letters award in literature, a PEN award as a master American dramatist, among others, has perhaps not had the recognition she deserves because she is an African-American writing challenging works about race, history, and colonialism.
The Alexander Plays are powerful and unsettling.  An autobiographical character, Suzanne Alexander, recounts her experiences of having her twin girls murdered by their white father who impregnated her while she was a student at Ohio State, her experience awaiting the return of her husband  who had been kidnapped in Ghana, and her infatuation with Bette Davis and her movies.  Using fantasy and real life characters such as Beethoven, Thomas Hardy, and Frantz Fanon, Kennedy weaves a surreal net around real life experiences both horrifying and sad.
Kennedy is clearly an important figure in the American theater, and quite unappreciated and unrecognized.  Reading these plays has at least begun my acquaintance with this powerful playwright.