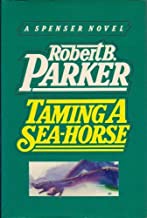 Taming a Sea Horse by Robert B. Parker 1986
Parker wrote 40 Spenser novels over a period of nearly 40 years and was  honored by the Mystery Writers of America with a Grand Master Award in 2002 as well as an Edgar Award in 1977 and a Maltese Falcon Award in 1983.  He died of a heart attack at his home outside Harvard Square in 2010 at the age of 78.
I have read all or nearly all of these 40 books and have kept many of them both hardback and paperback in our guest house in Vermont.  When I'm there and needing a break from the heavy-duty reading that I spend most of my time on, I'll pick one at random off the shelf and dive back into Spenser, Susan Silverman, Hawk, Henry Cimoli, Martin Quirk, Frank Belson and a host of Boston bad guys.
Reading 'Taming a Sea Horse' was such an event, but unlike nearly all of the Spenser novels, this one disappointed.  Perhaps it began when I had no idea, even after finishing the book, of what the title referred to.  Huh?  Then again, the plot was thin and the ending was unsatisfying.  Bottom line, if you don't know Spenser, don't start with this title.