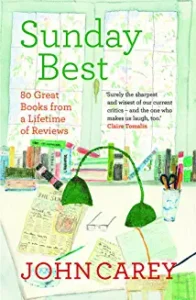 Sunday Best:  80 Great Books from A Lifetime of Review by John Carey 2022
From the charming cover featuring a watercolor depiction of Carey's desk filled with books, the Sunday Times, a pencil, notebook, and his glasses to the 80th entry, Carey's paeaon to vegetable gardening, this is a delightful book, one which I was sorry to see end and which I hope to go back to on frequent occasions in the future.
Carey is the 88 year old emeritus Merton Professor of English Literature at Oxford and has been writing two book reviews a  month for the Sunday London Times since the mid-70's.  He combines his academic discipline and depth with a wide-ranging curiosity and a deliciously sharp sense of humor and applies them to books across a wide spectrum.  In the introduction, he defends the value of reading book reviews, a genre that I particularly enjoy.  He points out that "too many books are published for anyone to read for themselves, so some kind of filter is needed, and book reviews provide it."  In addition, he quotes Milton who wrote that a "good book is the precious life blood of a master spirit, embalmed and treasured up on purpose to a life beyond life."  He chose these 80 reviews because they "brought back the happiest memories" when he looked back over his oeuvre.
The reviews are organized into 7 sections:  Cultural History, Science, Memoirs, Anthropology, Biography, Literature, Back to Nature, and Mind Benders.  The categories feel arbitrary, and I would have preferred the variety of reading them in chronological order which with a few exceptions would have featured books between 1990 and 2020.  The reviews are unfortunately presented one after another rather than setting each new one on a new page and that stylistic decision somewhat unsettled my reading experience.  Finally, the books reviewed are  decidedly British with many of the books dealing with people or topics that were quite alien to me, e.g. a biography of the Welsh poet and priest R. S. Thomas.
Those criticisms aside, I loved the book. Carey would be my choice to join me at luncheon for three should By the Book ever interview me.  He's funny.  Witness this observation about Germaine Greer's 2007 book about Shakespeare's wife: "Threading this maze of blind alleys (referring to Greer's speculations and trivia about 17th C. English village life) is the sort of reading experience that brings vividly to mind the many more useful and enjoyable things you might be doing." He also has chosen a number of books that I would have thought to be of marginal interest and made them fascinating.  For example, he reviewed a book about Francis Barber, a Jamaican slave who was given to Samuel Johnson and who ended up helping him with is dictionary and inheriting his estate.
I emerged from this book with a short list of 'must reads' including works by Alan Bennett, Sylvia Plath, Sebastian Faulks, and Clive James and with a new awareness of some fascinating British writers and leaders from Victorian and Edwardian times.  Not everyone will love this book and many of the reviews are about books, authors, and topics long forgotten, but one can't help looking forward to the next opportunity to settle into a comfortable chair with a cup of tea and John Carey.