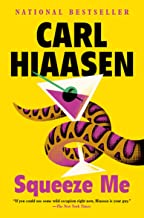 Squeeze Me by Carl Hiassen 2021
Hiassen has been writing furiously funny mystery novels set in the bizarro state of  Florida for decades, and this, his latest, is a real hoot.
Filled with strange and wonderfully eccentric characters, the plot is too ridiculous to summarize except that it involves monster Burma pythons, a thinly disguised Trump and Melania, the Secret Service, and a few heroic law enforcement officials in Palm Beach. The center of all of this is Angela Armstrong who had been a Florida wildlife ranger until she decided to punish a poacher by feeding his hand to a local alligator.  Well, that gives you some sense of the story.
Hiassen's stuff makes me laugh out loud at least once in every chapter, and his outrageous lampooning of trump and his family and supporters was an added bonus.  Read this as an antidote for the daily newspaper and Facebook headlines.