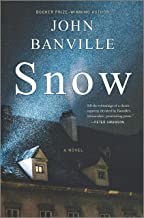 Snow by John Banville 2020
Banville is perhaps the pre-eminent Irish writer of our times. The winner of the Booker Prize in 2005 and numerous other honors from multiple countries, he writes literary fiction and has also written mysteries featuring a Dublin pathologist under the pen-name, Benjamin Black.  'Snow' is his first mystery written under his own name.
The book takes place in County Wexford in southeast Ireland, Banville's home territory.  It spans the years 1947-1967 and begins with a gruesome murder of a Catholic priest in a country estate owned by an old family.  The clash between the religions is always just under the surface as St. John Strafford, a detective inspector from Dublin, tries to sort out the crime during a severe winter storm (hence the title).  Strafford is faced with a cast of characters and suspects that he describes as coming directly out of an  Agatha Christie closed room mystery:  the dithering retired soldier who owns the decaying estate, his neurasthenic and perhaps mad wife, his iconoclastic daughter, and buttoned-up son—-all suspects.
The book is entertaining and has a surprise ending. What clearly distinguishes it from the Lee Child/Robert Parker/Robert Crais/Harlan Coben school of mystery writing is the superb literary style.  Even when he's describing a murder or the scene in the small town hotel and pub, Banville's style is elegant, spare, and spot on.
This is not great literature, but it's several cuts above your average mystery.  It's an ideal accompaniment to a glass of single malt scotch, a fire in the wood stove, and a comfy chair on a cold, windy, and snow-filled night. Enjoy it!