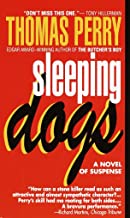 Sleeping Dogs by Thomas Perry 1992
This is Perry's second installment in the Butcher's Boy series of four books, rejuvenated when Eddie's Boy came out last year.  The Butcher's Boy is Michael Schaeffer or is it Charles Ackerman or William Wolf, all identities that our hero has used after a sum or more than $1M was put on his head by Carlo Balacontano, the head of a crime family convicted of a murder that Schaeffer had set him up for.  In this book, Schaeffer is spotted by a member of a crime family while attending the races at Brighton.  This is a bad mistake for that crime family member and for at least a dozen others as Schaeffer returns to the US to settle some scores and ends up killing three crime bosses in New York, Buffalo, and Santa Fe.  We also meet Elizabeth Waring, DOJ employee who got very close to the Butcher's Boy ten years earlier, before he disappeared into England.
This is a fine page-turner, though not for the squeamish as the bodies pile up.  Eagerly awaiting my next two Butcher's Boy novels including the first in the series.