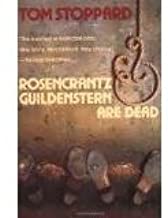 Rosencrantz and Guildenstern Are Dead by Tom Stoppard 1967
This classic of the American theater premiered in NYC in October, 1967, just one month after I began medical school.  Fast forward 50+ years and there's a new biography of Tom Stoppard who at the time of this Broadway hit was just 29 and writing his first major play.  The reviews of the Stoppard biography in both the New Yorker by Anthony Lane and the Sunday New York Times Book Review by David Ives were loaded with fascinating information about Stoppard who has gone on to write many successful plays, both for audiences and critics.  The reviews led me to this play sitting on my Vermont library shelf and probably borrowed from my older daughter since the name of a friend of hers appears on the inside cover.
The play is quite amazing.  I think that reading it is a poor substitute for seeing it with its rapid fire give-and- take between the main characters and the clever innuendo and literary references.  R and G are, of course, minor characters in Shakespeare's Hamlet but in Stoppard's play, they are the stars. With strong shades of Waiting for Godot, they endlessly stumble over probability, fate, death, and the apparent meaninglessness of life.  When the play begins, they are playing a coin toss game, and Rosencrantz correctly calls 'heads' no fewer than 92 straight times.  The audience is thus forewarned that 'all bets are off.'
I now want to find a production of this play to see in the flesh, especially the final Act where the Players from the play within the play in Hamlet combine with R &G to appear and disappear from barrels on the deck of the ship taking them to their deaths in England.  Clever, funny, and deeply unsettling is not an easy combination to achieve.  Stoppard's success with this play was the beginning of a long and distinguished career in the American theater.  Worth reading for sure.