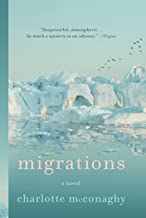 Migrations by Charlotte McConaghy 2020
Recommended by the former owner of our local bookstore in Norwich, VT as well as by Emily St. John Mendel in Literary Hub, this novel was terrific.
A debut novel by an Australian, it heralds a promising career because of the fine writing.  Yes, there's a gripping plot, a crew (literally) of fascinating and credible characters, and a timeline that darts back and forth over a number of decades and continents and that sometimes challenged my ability to stay with the story, but the pleasure came from the really exquisite writing.
The title is a plural and refers to a number of migrations—-the obvious one being the thousands of mile journeys by the Artic tern from the Arctic to the Antarctic and back.  But there's also, Franny Stone, the central character, who migrates from Australia to Galway, to Ireland, to Greenland, to Argentina, and ultimately, to the Antarctic.  There's also the migration of the fishing vessel Saghani and its captain and crew.  Saghani is Inuit for Raven, another species that migrates except for those who stayed with Franny during her childhood.  The story is a complex weaving of time, persons, plots and subplots but it really works.
The book is also about climate change and the destruction that we have wrought on this planet.  The book's setting in time is unclear but the large mammals have gone extinct as have Franny's crows.  Are the Arctic terns also doomed to disappear.  No spoiler alert here.
I gulped this novel down in three long sittings, and the moment I finished it, I wanted to re-read it to better appreciate the author's skill in creating this story.  St. John Mendel said that she recommended it because it made her cry.  Me, too.