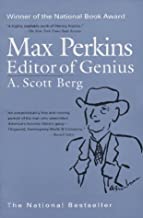 Max Perkins: Editor of Genius, A. Scott Berg 1978
Question:  What do F. Scott Fitzgerald, Ernest Hemingway, Thomas Wolfe, Marjorie Kinnan Rawlings, Ring Lardner, James Jones, Alan Paton, and Erskine Caldwell have in common besides being the outstanding American novelists of the first half of the 20th Century?  Answer:  They were all first published by the venerable publishing house Charles Scribner's after being 'discovered' and thoroughly edited by Max Perkins.  Berg's National Book Award winning biography of William Maxwell Evarts Perkins tells the story of how this quiet, unobtrusive, soft-spoken, New Jersey-reared, Harvard graduate arrived at Scribners as a marketing employee in 1909 after a stint as a New York Times reporter and rapidly rose to become the chief editor.  It was his ability to read a rough manuscript (and in the case of Thomas Wolfe, a barely formed enormous pile of hand-written pages) and see genius.  Overcoming the conservative tradition of Scribners, Max sheperded his authors through draft after draft, gently suggesting restructuring the work and deleting the unnecessary, but always giving the author the final word and never providing language or rewriting.  Perkins' influence is almost impossible to overstate, and Berg's National Book Award winning biography provides the details of his life, his work, and the times in brisk-moving and readable prose.  Weighing in at 500 pages, Berg might have benefited from Perkins' gentle hand in eliminating some of the detail, but the hundreds of letters and anecdotes provide a richness to the relationships that Perkins formed with his authors, in some cases acting as the father they never had.  Especially with Fitzgerald, Hemingway, and Wolfe, Perkins was perhaps the key relationship in their personal as well as writing lives.
I was also drawn to Perkins because his maternal grandfather, William Maxwell Evarts, a distinguished attorney who served as Andrew Johnson's counsel during his impeachment hearing in the Senate and who served as U.S. Senator and Secretary of State under Hayes, bought a home in 1820 on Main Street in Windsor, Vermont about five miles from our home in West Windsor.  Perkins spent all of his summers as a child there and took the train north from NYC on summer weekends to be with his  five daughters at the family compound which eventually reached six homes in Windsor.  His attachment to our part of Vermont was deep and meaningful for him.
Perkins, never inserting himself into the public eye, was an important figure in American literature in the 20th C., and Berg does a fine job of telling the story in a brisk, readable, and engaging fashion.  Highly recommended for anyone interested in these literary figures, the America of the 1920's and 30's, and the processes of book editing and publishing.  A fine volume!