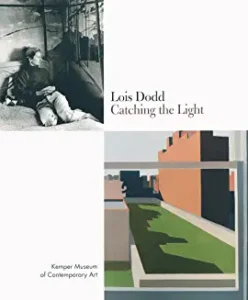 Lois Dodd: Catching the Light by Kemper Museum of Contemporary Art 2012
We discovered Lois Dodd in the course of our travels to see all of the Vogel 50×50 collections in museums around the country (see special projects on my web site).  There was a single Dodd painting in the 2500 pieces donated by Herb and Dorothy Vogel to the National Gallery of Art and included in the 50 they distributed to one museum in each state.  We saw this small oil on linen work when we visited the Yale Art Museum in the 2010's and immediately became taken with her work.
Since then we've admired her from a distance until acquiring a small oil on masonite work entitled Abandoned Vermont House last year and another small work on aluminum this year.  In addition, the nearby Hall Art Foundation in Reading, VT is featuring her work in a one woman show this summer.  Hence, my reading of this book which accompanied the one woman exhibition at the Kemper Museum of Contemporary Art in Kansas City in 2012 and traveled to the Portland, Maine Art Museum as well.
Dodd is a 95 year old artist who was in the midst of the abstract expressionism movement in NYC in the 1960's but who refocused her work increasingly on representational works based on what she saw out her studio window on 2nd Avenue in NYC, at her New Jersey home, and most importantly at her environs in Cushing, Maine where she spent her summers.
Her work is beautiful and varied. From landscapes to urban scenes, from interiors to long views, with an occasional self portrait.  The catalog features 50 plates showing her work as well as essays by several leading art critics and reminiscences by a number of her famous artist friends including Wolf Kahn, Will Barnet and Alex Katz.  Even if you don't know her work, you should find this book and become acquainted with a new vision.  If you do know her work, you already know you'll love the book.