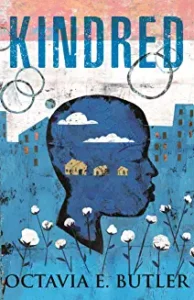 Kindred by Octavia Butler 1979
Writing early in her career, Butler uses her science fiction skills to transport us back in time to 1819 when slavery on Maryland's eastern shore was the world that defined the relationships between whites and blacks.
Dana and Kevin, two writers in a racially mixed marriage, have just moved into a new apartment in LA in 1976 when Dana experiences an out of time/out of body episode in which she finds herself saving a small child from drowning.  The white child turns out to be Rufus Weylin who through some mysterious means reaches out to Dana repeatedly over the next 20 years to save his life from fire, drowning, and being beaten to death.  Dana is motivated to do so by the discovery that Rufus is her own kin, the father of a freed slave named Hagar who had recorded the family tree in an ancient Bible.  Dana's efforts to save Rufus until he can father Hagar are the core of this novel.
The book works because Butler is a fine writer, but the premise still seemed thin to me.  On the other hand having visited the Deep South on a civil rights tour this Fall and having a new and informed understanding of the impact of slavery on Blacks, this book added another layer of insight and empathy.
The book also reinforced my belief that the South fought to maintain and expand slavery not just for economic reasons (e.g. the capital value of slaves in 1864 did exceed the combined value of all other capital entities in the South), but also for sexual reasons. The open and free and unpunishable access of slave owners to young, attractive, and available female slaves was a key driver for the conflict and one that has not been emphasized in history books.  Lust for money is probably exceeded in the moment only by lust for sexual gratification.  This book portrays that quite clearly.
An important early work by this important American writer.