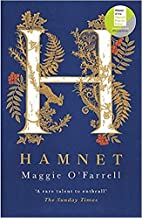 Hamnet by Maggie O'Farrell 2020
O'Farrell's book was much honored when published—Top Ten book of the year in the New York Times, winner of the 2020 Women's Prize for Fiction, National Book Critics Circle Award for Fiction, and many others.  Those honors were richly deserved.
She takes the reader back to late 16th C. Stratford, England where we meet two families—-the Shakespeares, father John, mother Mary, daughter Eliza, and sons William, Richard, and Gilbert and the Hathaways, the widowed Joan, her several children, and her step-children, Agnes and Bartholomew.  When William sees Agnes with her falcon on her arm, he is smitten, and when their parents forbid marriage, they embark on a  pregnancy and then wed.  Susanna, their daughter is born and a few years later the twins, Judith and Hamnet.
It is the story of Hamnet's death at 11 that is the structure around the book's plot, but it is the writing that enthralls and grips the reader.  While following the fascinating and mysterious Agnes and the largely absent and driven, Will who has embarked for London, the reader is constantly engaged with beautiful prose—images, descriptions, lyrical passages about nature, and on and on.  At its core, this is a book about loss and grief and the ways that different people face them.  I've always thought that the death of one's child would be the worst experience in life—the agony of Agnes and the creative outlet for Will's grief confirmed that for me.
O'Farrell has written a wonderful novel—a superb and deeply felt story narrated in beautiful and engaging language.  Highly recommended.