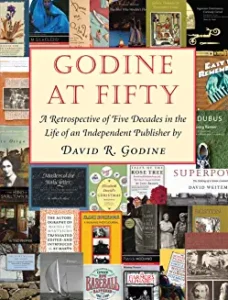 Godine at Fifty: A Retrospective of Five Decades in the Life of an Independent Publisher by David R. Godine 2021
This book is simply marvelous!  Presented in table top size and weighing in at a formidable 277 pages, each one packed solidly with book covers, details of publication, and Godine's personal commentary and reminiscences, this is a book to own, browse, and return to whenever in search of fine writing or the next book to read.
Godine became interested in bookmaking and publishing while a student at Dartmouth. Upon finishing college he 'apprenticed' to a skilled book maker at Leonard Baskin's Gehenna Press in Northampton where he met the two colleagues with whom he would begin the business of letterpress printing in an old barn on an estate in Brookline, MA.  Letterpress printing eventually morphed into the full-scale publishing house in 1970 with the publication of Andrew Marvell's 1739 poem, 'The Garden'.  Since that time, Godine has published hundreds(? thousands)  of books and from those, he has chosen his favorites in 23 categories: Woodcut and Wood Engraving, Fiction, Short Stories, Literature in Translation, Poetry, Essays and Criticism, Words, Language & Usage, Biography & Autobiography, History, Photography, Art, Architecture, Children's Books, Nautical & Maritime, Music, Gardening, Cooking & Cuisine, Typography, Calligraphy, Natural History, Humor, The Sporting Life, and Outliers & Other Works of Unclassifiable but Undeniable Genius. The last category which includes the Latin translation of Ferdinand the Bull gives you some sense of Godine's erudition and humor, a rare combination that is evident on every page of this fine book.
I think that one of the reasons I loved this book is that it reminded me of my own web site, albeit that mine is totally derivative and much more modest. The similarities, however, felt powerful—a person reading widely and seemingly at random and writing brief, personal reviews of each work.  As I started to read, I began to note the books that I wanted to read, but quickly learned that I would be jotting down nearly every title Godine reviews.  Superb first American editions of writers like John Banville, Andres Dubus, Janet Malcolm, and the Oulippian Georges Perec are included alongside reprinted classic works by Edmund Wilson, George Orwell, Donald Hall (my own personal favorite!), and William Maxwell.  World class photographers Sally Mann, Paul Caponigro, Nicholas Nixon and others brush up against children's books illustrated by Mary Azarian and William Steig.  A list of those who were willing to write introductions, prefaces, forewards, or afterwards gives a sense of the respect with which Godine was held:  Auden, John Hollander, Anne Fadiman, Barbara Tuchman, Frank Kermode, Updike, William Gass, C.P. Snow, Richard Russo, Tobias Wolff, and Anne Beattie among others.
Unexpectedly, I became fascinated by Godine's comments on the physical process of book publishing—the choice of paper, the font and typography, the layout on the page, the printer, and on and on, details I had never really thought about.  Here's Godine on the process of book making: "Most people think it is writers who create books. This is nonsense. Writers create texts for books, often accompanied by illustrative material, revealing captions, and helpful back matter.  But it is the publisher who converts this material into something that is readable, useful, hopefully attractive and affordable."
I could go on and on about how much I enjoyed this book and how often I anticipate returning to it for visual pleasure and reading ideas, but I'll close with the simple, BUY THIS BOOK.  You won't regret it.