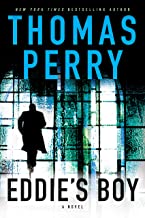 Eddie's Boy, Thomas Perry 2020
One of the real treats of reading the New York Times Sunday Book Review is Marilyn Stasio's Crime Stories column.  She has steered me to a number of wonderful authors, and her latest tip was this book, Thomas Perry's fourth novel in the Butcher Boy series.  Coincidentally, a few days ago and just before I began the book, a good friend also recommended it.  Fine call.
The book begins with Michael Schaeffer killing four bad guys who had been sent to his wife's manorial estate in Yorkshire in order to kill him.  Schaeffer is puzzled because he's been out of the 'killing for hire' business for over 30 years which led to the question as to who they were, why they were trying, and why now.  And with that first chapter, off we go to Manchester, Sydney, New York, Chicago, Pittsburgh, Manchester, NH, and Saratoga Springs with the bodies of La Cosa Nostra mobsters piling up like cord wood at every site.
Schaeffer, called the Butcher Boy because after being orphaned at 3, he was taken in by Eddie, the local neighbor hood butcher who also happened to be a top notch 'murder for hire' guy.  Eddie teaches the boy the butcher's trade and also how to kill.  Schaeffer plies his trade with great fervor from age 16 to 31 when he retires after marrying a beautiful and wealthy English woman
That's the background.  Settle back on a wintry night with a glass of single malt scotch and enjoy Perry's fine prose and Schaeffer's brilliant schemes. You won't be disappointed, but you are almost certain to lose track of the body count.  Can't wait to read the first three books in this series!