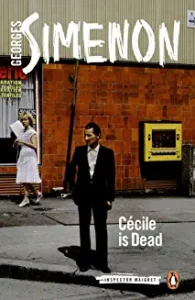 Cecile is Dead by Georges Simenon 1942
This Maigret novel, the 22nd in the series, was one of three published in 1942 and was originally issued as "Maigret and the Spinster", a title I much prefer.
As the book begins, our intrepid Chief Inspector is enjoying the first warm, foggy morning of the Paris spring when he finds the eponymous Cecile waiting for him in the Quai de Orfevres waiting room, dubbed by the inspectors, The Aquarium. Since she has been coming so often that the inspectors have begun referring to her as Maigret's girl, he avoids her for several hours, and when he finally calls for her, she has disappeared.  As surely as the sun rises in the East, she turns up dead, and thus ensues another marvelous case of Maigret's methods.  In this case, they are more spelled out than usual, since Maigret is accompanied by a Philadelphia police detective sent to study his crime solving skills.
This isn't one of the best Maigrets but it's a good one and unlike many of the Simenon novels, this one ends up with the bad guy in jail and heading for trial for murder.