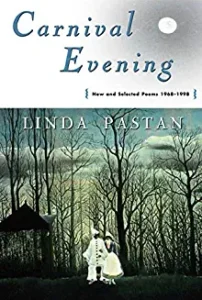 Carnival Evening: New and Selected Poems 1968-1998 by Linda Pastan 1998
Linda Pastan died two weeks ago in Bethesda, MD at the age of 90.  She was Jewish, the grandchild of immigrants, a graduate of Radcliffe, the mother of three, and a brilliant poet who wrote of the everydayness of the gift of life—the seasons, the night sky, the leaves of the trees, the cousins and other relatives, her husband and children, and the endless subtle movement towards mortality. She won the Lily Prize, was twice a finalist for the National Book Award, the poet laureate of Maryland in the '90's, and one of my very favorite poets.  A Boston friend who is an accomplished poet was a friend of Pastan's and wrote to me that she was reading Pastan's  "new and selected" and the "new poems are filled with echoes of mortality as, in fact, her poems have always been. She has one in which she talks about someone asking why she always writes "dark" poems. But they are poems with great humor and self-understanding and wisdom as well as the awareness of mortality."
I chose to read her first book of 'new and selected' poems, some dating back to her 30's and some to her 60's, and it's a wonderful volume. I often struggle with how to read a poet's work, whether to read one slim volume or whether to tackle the collected or selected works. Those latter are generally thick volumes and are often intimidating.  I find it difficult to read one poem after another through a few hundred pages.  Not Pastan's work—-each poem was a pleasure, a delicious discovery, another revelation of her wonderful ability to translate the quotidian into the special.
My notes on the book run to dozens of quotes and whole poems I want to share and several of the poems can be found in this month's Poetry Tree on the Charles, so I'll just share some of the phrases that stopped me in my reading.  In a wonderful description of our Vermont getaway in winter: "books and bread and firewood—those usual stepping stones from month to freezing month."  And the thousand ways she refers to loss and aging which include "…the world is diminished leaf/by single leaf, person by person/with excruciating slowness." "My children fill the house with departures…"; "…the whole riptide of daily life hidden but perilously pulling both of us under so fast."; "….And if loss is an absence, why does it grow so heavy." And finally, in reference to her beloved gardening, "….we kneel/on the resilient ground/trying to befriend the soil/we must become"  Brilliant!
These are but a few lines from the dozens of poems from the eight volumes that comprise the source of these selections.  There are many, many more.  Read Pastan and you will be richer for it when you return to that daily routine we all 'life'.