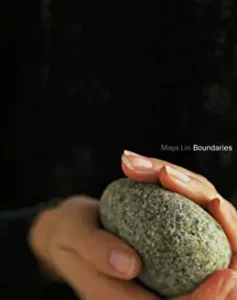 Boundaries by Maya Lin 2000
Reading this book reminded me of how reading has become a central thread in my life, tying together family, friends, learning, and an insatiable curiosity.
Last week Susan and I visited our DC family. Where does one take an 8 and a 4 year old grandchild??? Of course, the National Portrait Gallery!  In between racing around the fountains in the atrium and counting the number of portraits of George Washington, we all enjoyed browsing through an exhibit of Maya Lin's work.  She's the remarkable artist perhaps best know for the Vietnam Veterans Memorial which she designed and installed in 1982 when her design was selected in an anonymous competition when she was an undergraduate at Yale.
Fast forward to yesterday when I was browsing at the Bryn Mawr BookSale, a used bookstore in our neighborhood that I first visited in 1971 when we moved to Cambridge for me to start my pediatric internship.  The Bryn Mawr still provides a rich source of rare and used books, and I visit every week or two to further grow the piles of 'to be read' books in my library.   Yesterday there was this book by Maya Lin selling at half price for $6 in the window.  Sold!
Lin wrote this book in 2000 just past her 40th birthday with many great public art pieces, designer furniture, and homes already in her list of accomplishments.  The book is her attempt to explain her philosophy of design, her techniques, and her processes and she does so by highlighting several of her best known works including the Vietnam Memorial, the Women's Table at Yale, the Civil Rights Memorial in Montgomery, AL, an installation at the Wexner Center for the Arts in Columbus, OH, and the Wave Field in Ann Arbor. Smaller projects are also described.
One comes away with great respect for this artist whose China-born father was a cermacist and imbued her early life with a love of beauty and design.  Lin's work balances the landscape site and her intervention (hence, the title of the book, Boundaries), the Asian and Western influences she experiences, the art and architecture of large installations, but above all, her respect for the site.  Interestingly, she begins the proposal for a new project with a written description before she even thinks about the actual design—what is she trying to achieve and what materials enhance those goals?  She then studies the sponsor's field of study.  For example, she spent weeks learning about fluid dynamics and aerospace for the project in Ann Arbor outside the new Aerospace Center.  Only then, does she visit the site and begin to make models, not drawings—another difference from most designers.
I love Lin's work from the Vietnam Memorial to her installation at Storm King, NY which we have visited several times.  This book is a fine introduction to her work, but now I want another volume covering the last 23 years of this remarkable artist's work.