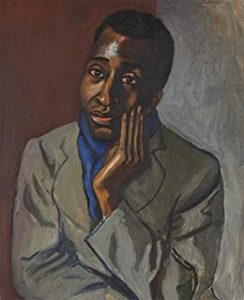 Alice Neel Uptown by Hilton Als 2017
This book is the catalogue for a show of 55 oil paintings exhibited at the David Zwirner (NYC) and Victoria Miro Galleries (London) in 2017.  The works are portraits by Alice Neel, a fascinating American artist who primarily painted portraits of individuals who shared her neighborhoods in Spanish Harlem and the Upper East Side where she lived from 1938 until her death in 1984.  Called by some one of the greatest portrait artists of the 20th C, Neel painted with an expressionistic realism, strong color, and female gaze.  She was rejected early in her career for her leftist political views and for her realistic and often unflattering depictions of the female nude, but received late acclaim and her work is present in most of the leading museums in the U.S. and abroad.
The 55 color plates in the book are beautifully rendered on large pieces of thick, high quality paper,  and are accompanied by the commentary of Hilton Als, one of our leading art, dance, drama, and cultural critics.  Als dives deeply into Neel's work emphasizing her 'interest and empathy' in her subjects, her willingness to look beyond the surface of poverty and affliction and find the humanity, hopes, and love that makes us human in each of her subjects.  There is no sentimentality and the portraits occasionally verge on the painfully real, but all her subjects are depicted with respect and grace.
Spending an afternoon with Neel and Als while a poor substitute for having seen the exhibit in person is still a fine way to appreciate the incredible act of transferring pigment to canvas to create a portrait of a real person and Als' sensitive description of both the artist and her work.