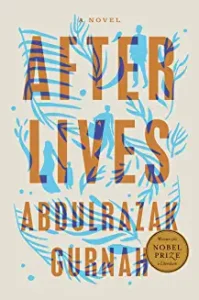 Afterlives by Abdulrazak Gurnah 2022
Gurnah, a Tanzanian born resident of Canterbury, UK, won the Nobel Prize for Literature in 2021.  This book originally published in England in 2019, appeared in the U.S. this year.  It is Gurnah's tenth novel and follows several short-listed Booker nominees.
The story spans the fifty years from before WWI to the 1950's, and takes place in small villages and towns in the German colony along the east coast of Africa.  We meet Kahlifa, the son of an Indian expat and an African woman and his good friend, Ilyas, an orphan raised on a German plantation.  The story unfolds as Kahlifa weds and Ilyas goes off to fight for Germany in WWI, and two more characters enter the action, Afiya, Ilya's sister, and Hamza who runs off from the plantation where he has been an indentured servant to fight in the war, as well.
None of these are important people in the greater world, nor do their lives have any impact on the colonialism and post-colonial worlds in which they live, but live they do.  Marriage, children, deaths, business booms and busts–the stuff of everyday life becomes important to the reader because Gurnah creates vivid, sympathetic, and interesting characters.
My mark of a good novel is one that has me thinking about the characters, the setting, and the action during the day when I am not reading and has me wanting to get back to the book as soon as possible.  'Afterlives' met these criteria.  It's a fine read and a good introduction to Africa's seventh Nobel Laureate in Literature*.  The review in the New York Times by Imbolo Mbue on August 18, 2022 concludes with this comment:  "He is a novelist nonpareil, a master of the art form who understands human failings in conflicts both political and intimate — and how these shortcomings create afflictions from which nations and individuals continue to suffer, needlessly, generation after generation."
*The other winners are  Wole Soyinka (Nigeria), Naguib Mahfouz (Egypt) Nadine Gordimer (South Africa) J.M. Coetzee (South Africa), and Doris Lessing (UK-Zimbabwe).  Interestingly, three are white and one is Arab, so Gurnah is only the second black African to win the prize.