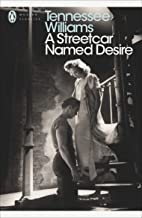 A Streetcar Named Desire, Tennessee Williams 1947
Stellah!  The cry rings through my mind but I had not managed to ever read or see this classic of the American theater, first performed in 1947.  It followed  Williams' acclaim from the Glass Menagerie, launched the careers of Marlon Brando, Jessica Tandy, and Vivien Leigh, cemented Elia Kazan's directorial eminence, and was produced by Irene Selznick with women doing the costume, lighting, and scenery as well.
The play is a powerful look at madness, the decline of the South, the complexity of love and violence in male/female relationships, friendship, homosexuality, and other themes just as current 73 years after its debut. Reading it was distressing and I can only imagine the impact it had on Broadway in the post-WWII years.
I was reminded once again of the power of reading plays and this one with its classic lines of Stella! and "Whoever you are—I have always depended on the kindness of strangers" which Blanche says to the doctor leading her out of Stanley and Stella's apartment on her way to the state mental hospital is a prime example.
Makes me want to read Williams' biography which was published in recent years.